What is Skilled Home Health Care
Home health can be complicated but it is important for potential patients and families to understand what it is, who qualifies, the goals of skilled home health care and what services may be included.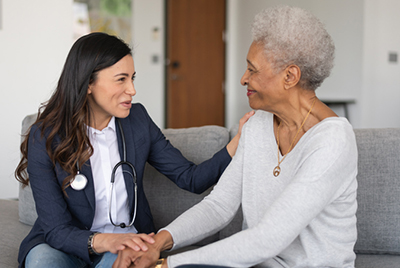 Call Empath Home Health today to learn more about how our skilled nursing services can assist you.
Call (855) 203-2273 for care in Collier, Lee, Sarasota, Manatee, Charlotte, DeSoto, Glades and Hendry counties,
(727) 467-7423 in Pinellas County or
(352) 347-1111 in Marion County.
Skilled home health care can provide a wide array of services to a person who has been certified as homebound and requires skilled healthcare due to an illness or injury. This specialized care is considered to be care or treatment that can only be performed by licensed nurses.
In order to receive skilled home health a patient must have orders from a physician stating the need and dictating services. Some examples of the types of care a skilled home health patient could require is:
Wound care for surgical wounds or pressure sores
Intravenous or nutrition therapy
Injections
Monitoring of a serious illness
Patient and caregiver education
Eligibility
Insurance providers establish criteria for receiving Empath Home Health services. Most follow Medicare guidelines for home health services, which are listed below. We encourage you to talk to your provider about specific requirements.
Patient must be homebound (leaving home for short periods of time requires "considerable and taxing effort")
Care must be deemed medically necessary
Care must be intermittent
Patient requires at least one skilled professional service
Physician directs care in collaboration with Empath Home Health
Patient must have a signed physician's order
Care and services must be administered where patient lives
Paying for Care 
Empath Home Health accepts Medicare, Medicaid and many private insurance providers. Contact Empath Home Health for more information.