Financial Considerations
Home health services are covered by a variety of insurance providers, both government and private.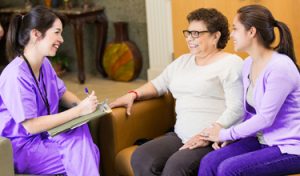 Frequestly Asked Questions
Is Empath Home Health care covered by Medicare?
Yes. As a Medicare-certified provider, 100% of our care costs are covered with no co-pays or needed secondary insurance necessary which means most likely you will pay nothing out-of-pocket.
Does my private insurance cover Empath Home Health Care?
Empath Home Health continually works with a variety of insurance carriers outside of Medicare. Please contact us to find out if your insurance is a part of our network.
Is Empath Home Health care covered by the Veterans Affairs or Tricare?
Currently it is not.
Please call your local Empath Home Health branch to discuss your financial options for covering our care.