Tidewell Hospice Nurse Residency Program
The Tidewell Hospice Nurse Residency Program is a comprehensive 12-month program designed to recruit newly-licensed RNs who have the heart for hospice. Nurses receive in-depth training and support needed to excel in this rewarding nursing specialty while receiving a full salary.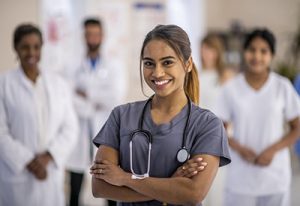 For the first six months of the program, residents receive individualized mentorship from a dedicated clinical coach or preceptor. During the final six months, residents receive additional ongoing education and support from hospice education specialists.
The Nurse Residency Program is made possible through the financial support of the Tidewell Foundation.
Amy Heine, the program's first registered nurse and current Tidewell Admissions RN, says she feels blessed to have been chosen. "During nursing school, I encountered hospice patients and their families in the hospital. I enjoyed speaking and spending time with them. I knew that to be considered for a hospice position I had to have years of nursing experience. I was excited by the residency program and the ability to get started right away in my chosen field. I have learned a wealth of information about nursing and relationships. And, how to have a meaningful life and a peaceful death."