Understanding Hospice
Often hospice is thought of as a place rather than a philosophy of end-of-life care. Tidewell Hospice offers expert and compassionate care to those coming to the end of their lives with a prognosis of six months or less to live. This care is provided by expert care teams wherever our patients call home – a private residence, assisted living care facility, nursing home, hospital, or Tidewell care facility.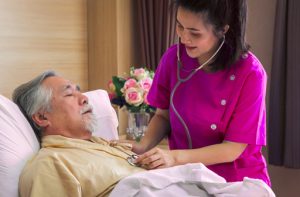 Signs You Need Care
Live with a serious or an advanced illness
Have had two or more hospitalizations in the past three months
Take nine or more scheduled medications daily
Have increasing pain and medications are not as effective in controlling pain and symptoms
Have treatments that no longer work
Feel tired or have shortness of breath
Have decreased appetite
Have difficulty walking, putting on clothes or using the bathroom
Are uncertain about treatment options and decisions
Benefits of Care
Control over your healthcare decisions
Additional expert care and support for you and your family
Enhanced understanding, comfort, wellness, dignity and peace of mind
Avoid unnecessary hospitalizations and multiple physician visits
Ask Your Physician
How do you expect my condition to change in the next year?
What symptoms might I experience?
Will I be able to go about my daily routine and care for myself?
Will the treatments I am doing or may pursue:
Cure or slow down my illness or instead focus on managing my symptoms and quality of life?
Increase or decrease my pain?
Make me feel sick?
Your Preferences
Your interdisciplinary care team (IDT) will work with you and your family and physician to create a plan of care specific to how you want to be cared for at the end of your life. This plan includes advance care planning, complementary services   and help with the healing process with specialized grief services for children and adults.
Special Care and Support
Tidewell offers specialized hospice care and support services for children, veterans in addition to other special care programs. Tidewell cares for terminally-ill children and provides dedicated support and grief counseling for their families. In addition, our Tidewell Honors Veterans program recognizes the unique care requirements of those who have served our country. Moreover, we offer all patients a variety of complementary services including music, pet, massage and aromatherapy as well as expressive arts and more.
When to Call Tidewell Hospice
Many people believe that hospice care is only for the last few days of life. On the contrary, hospice care is designed to be available and can provide comfort and care to patients and families during the last six months of life. Most people we have served have said they wish they would have called us sooner.
Tidewell Hospice is available 24/7 to answer your questions and concerns at (855) 843-3935.