COPD Program
End-stage Chronic Obstructive Pulmonary Disease (COPD) can cause difficult symptoms to manage leaving the patient with frequent hospitalizations. Tidewell's COPD program provides a specialized care plan and trained staff to help with symptom management and helping COPD patients be cared for in their home.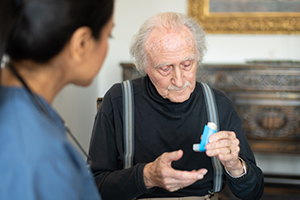 Patients in Tidewell's COPD program receive individualized care plans including:
Regular visits from a specially-trained nurse. The nurse will work with you and your hospice care team to control COPD at home
Medications prescribed to control symptoms and keep you at home
Addressing symptom crises 24/7 a day with RN and medical director
Monitoring of weight, vital signs, monitoring of oxygen levels and symptom management
Signs it is time to call Tidewell Hospice about a COPD condition:
Significant symptoms such as shortness of breath, coughing, chest pain and/or fatigue
Difficulty catching his or her breath or talking
Recurring hospitalizations or ER visits due to increased symptoms
Other health issues such as kidney disease, heart disease or dementia
Surgery is not a good option
For more information on how Tidewell Hospice can help a COPD patient call (941) 894-1777.